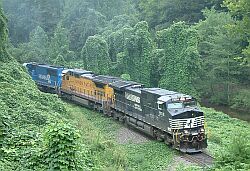 Welcome to the RRPictureArchives.NET contributor site of Paul Woodring.

I'm a lifelong fan who managed to become a Class I railroader. Born and raised in Akron, Ohio, most of my early stuff is from that area. I lived and worked as a railroader in the Washington/Baltimore area for over 20 years, which is reflected in much of my collection. I also have traveled some to Canada, China and Central Europe, as well as about half of the U. S. Hope you enjoy this display as it evolves. My aim is to show railroad related images of people, places and things that are either not commonly seen, or no longer exist as they did.


You may browse my collection of pictures via the menu located on the left hand side of the page. I hope you enjoy the collection and thanks for stopping by!
Note: This site is best viewed in Internet Explorer 6.0 or above.
Select one of the links from the menu on the left to begin browsing the collection.